Get this SUPER SOFT and CUTE Nest-Like Bed That Cats LOVE!
Meet the All-New Cozy Cat Nest.
Cave-like and made from fluffy-soft material for warmness during cold winter months. -  Your cat will enjoy burrowing itself in this sandwich-like extra thick bed. Good for watching, hiding, sleeping, or snuggling up.  
Do you ever see your cat lying in such things as a tight small box or a hard rough surfaces that look so uncomfortable? 
Your cat deserves better. Your cat deserves the Super Soft and Luxurious Plush of our Fluffy Cat Bed which helps them calm and relax their pretty paws 🐾
🐾 Your beautiful fur baby will 'knead' this bed as it will help Ease Their Anxiety. The cave-like cover makes your cat feel Safe and Secure which allows them to Sleep More Comfortably and Soundly.
🐾 The Fluffy Cat bed is also Purrfect for Senior Cats as the Super Soft filling supports their muscles and joints to feel relief. Making your Senior Cat a Happier Cat 😸
 🐾 Best of all the beds Easy to Clean and completely machine washable. (gentle cycle, tumble dry on low or lay flat to air dry)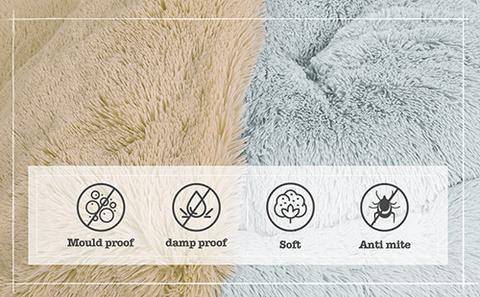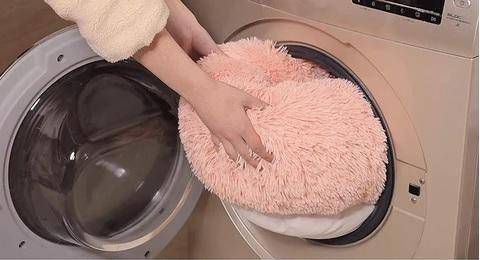 🐾 We recommend Bed Size Small for Kittens.
Sizing
Bed Diameter - 50CM
Pamper your kitty with this extra thick bed to snuggle up in. Comfy as a sleeping bag, it will meet all demands for softness, fluffiness, and warmness - your cat will entwine its tail around you with gratefulness.
Our Sherpa
Our Premium Sherpa is a high-performance fabric that is luxuriously warm, soft, and lightweight.
With a curly, slightly nubby texture and subtly flecked appearance, it has a plush sweater-knit backing.
Comparable in softness and insulating properties to natural fur, it has a high warmth-to-weight ratio. It wicks moisture from the body—making it warm even in the dampest conditions.
Washing Instructions: 
Machine wash in cold water. Tumble dry.